Welcome to the online home of
FOTAS

and

IBC

2024!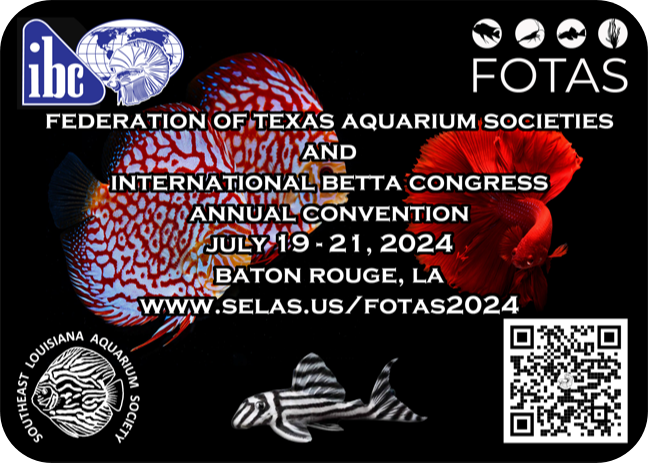 The Southeast Louisiana Aquarium Society (SELAS) proudly welcomes you to the 69th convention of the Federation of Texas Aquarium Societies (FOTAS) will be held in Baton Rouge, LA beginning on July 19, 2024 and ending on July 21, 2024.  In conjunction, the International Betta Congress (IBC) will be holding their annual convention as well.  Both conventions are combined into one giant event!!!
The convention officially starts on Friday, July 19 at 5:00 PM with the betta show room and the vendor room opening up to the public.  The first speaker session will begin at 8:00 PM.  However, before that, the IBC will be conducting Judging Seminars for potential new betta show judges.  For those interested, these seminars are open to the public.
If there is enough interest, we could probably schedule a swamp tour for the day of Friday, July 19 before the convention actually starts.  Details for that will be worked out closer to the convention.  If you would be interested in swamp tour, be sure to let the organizers know so that we work out the details.
In addition to the speaker sessions, the conventions will feature two vendor rooms, an Awards Banquet Saturday night (featuring a Funny Money Auction), a betta show, a general fish show, and a giant live fish and aquarium related products auction on Sunday.  This will be a fun event that you will not want to miss!
Please use the above menu to get more information on all of the items as well as to register for the event.  Also, please note that registration for the convention is $10, this includes everything except the Awards Banquet, which is a separate cost.
See you July 19, 2024!